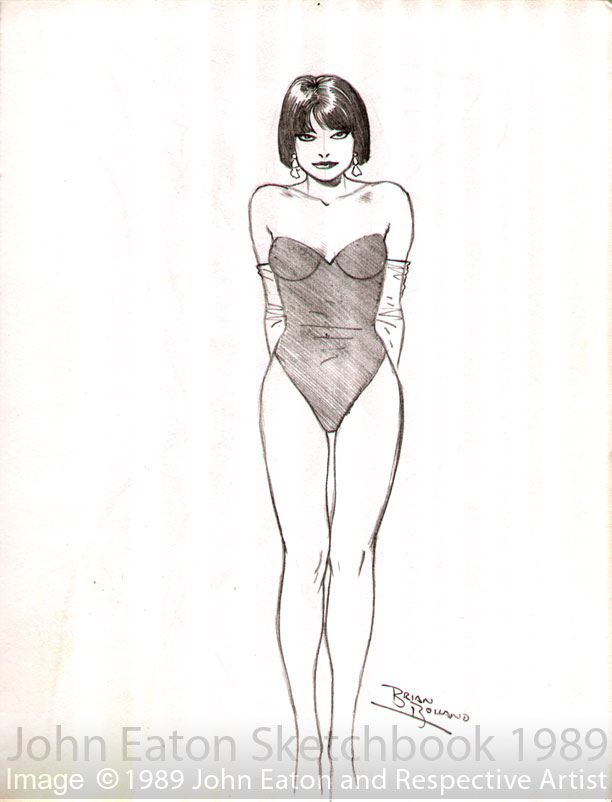 For the next batch I'll delving into 1989. This was quite a year for me and one filled with many opportunities for sketches and additions to my collection of loose art. I hit just about every convention of note in the US that year including the Atlanta Fantasy Fair, Heroes Convention, Chicago Comic Con and San Diego Comic Con.
Sketchbook 1, Page 3: Brian Bolland
Brian is one of my favorite artists - for this sketch I had to give up my sketchbook to Bob while he attended a UK comic convention as a guest. Bob returned with this sketch and a rough from the Killing Joke for me (he also got Alan Moore to sign the rough - did I mention that Bob's a great guy?). This sketch always has a profound affect on people when then get to it in SB1 as it's right in the front.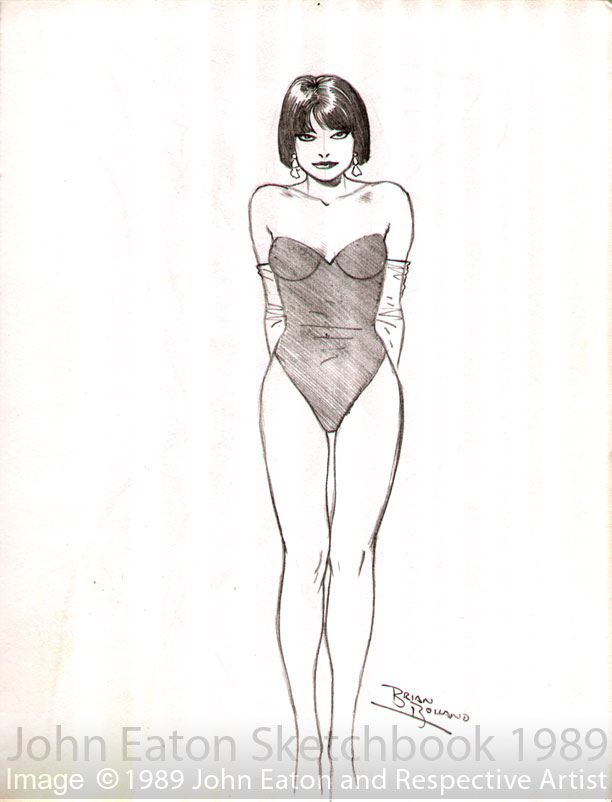 Sketchbook 1, Page 9: Karl Story
Sometime during 1988 Gaijin studios started to gain some steam and I would visit them from time to time (I knew most of the guys from days past). Karl is better known as an inker these days, but back then he would do some pencils as well. He's actually quite talented, as this sketch demonstrates - something about scantily clad women with a huge gun is quite appealing.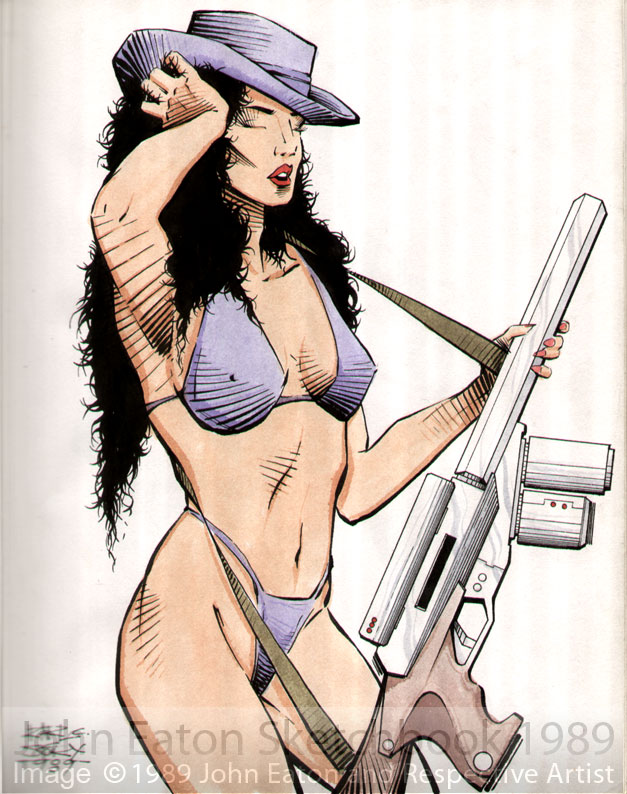 Sketchbook 1, Page 10: Dave Johnson
Dave Johnson and I go a long way back - when I first met him he was going to Portfolio Center and working as a DJ at a local 50's club called Studebakers. I also had a friend that worked at another location as a bartender and we would sometimes get together. I've ended up with quite a bit of Dave's art over the years - in the early days he was looking for an airbrush rig and I had one - we swapped and I ended up with some inked drawings and a great airbrush of Cyclops from the X-men. This sketch is from his character "Bertha the Ball Busting Bimbo" - I have another done in a different style in SB2.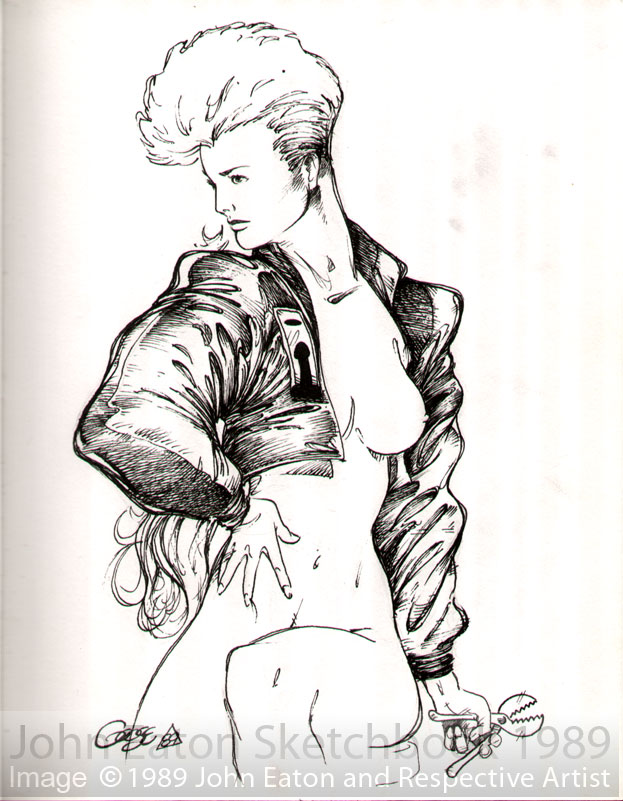 Sketchbook 1, Page 14: Mark Bode
I've always admired Cheech Wizard done by Mark's dad Vaughn - but didn't realize Mark also drew in a similar style. During one convention I happened on Mark's slideshow (which you should attend if you ever get the chance as it's quite wonderful) and ended up hanging out with Mark afterwards for dinner - Mark's a great, very funny guy and a joy to know. This illustration was done entirely in marker.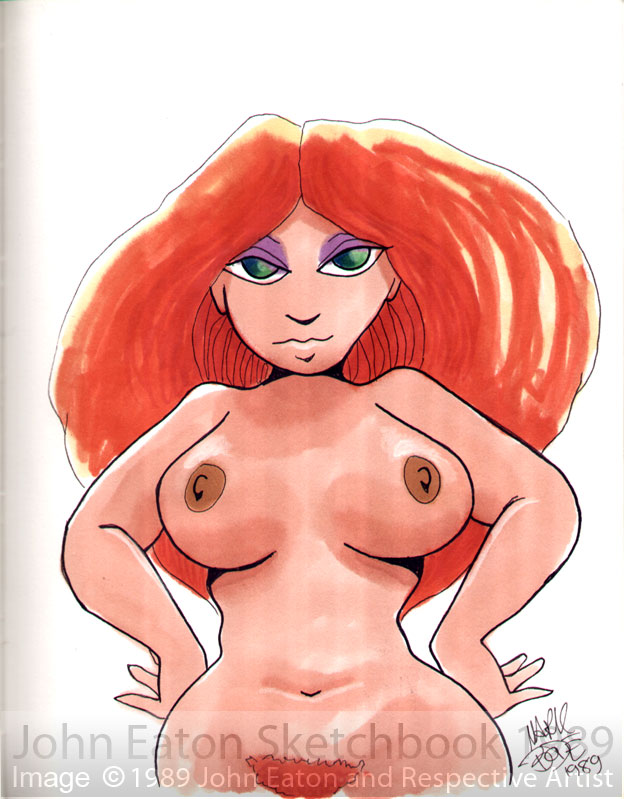 Sketchbook 1, Page 15: Scott Hampton
I've been following Scott since back in the days of the 80's independents (try Silverheels) and have always been a huge fan of his work - at the time he was about the only artist doing fully painted panels. I got to actually meet and got to know Scott at the Heroes Convention in Charlotte a few years earlier - I was talking to someone I met about his work and we walked into the bathroom - I said something about how great is work was, etc when this voice comes from a stall "Thank you very much!" and out walks Scott. Unfortunately Scott was always so busy doing illos that it was virtually impossible to get him to do anything for me personally - 1989 was the year for that - if you look at the sketch it says "At Fucking Last" which is in reference to how this was finally much drawing, which he had been trying to find time to do for me over the course of many years.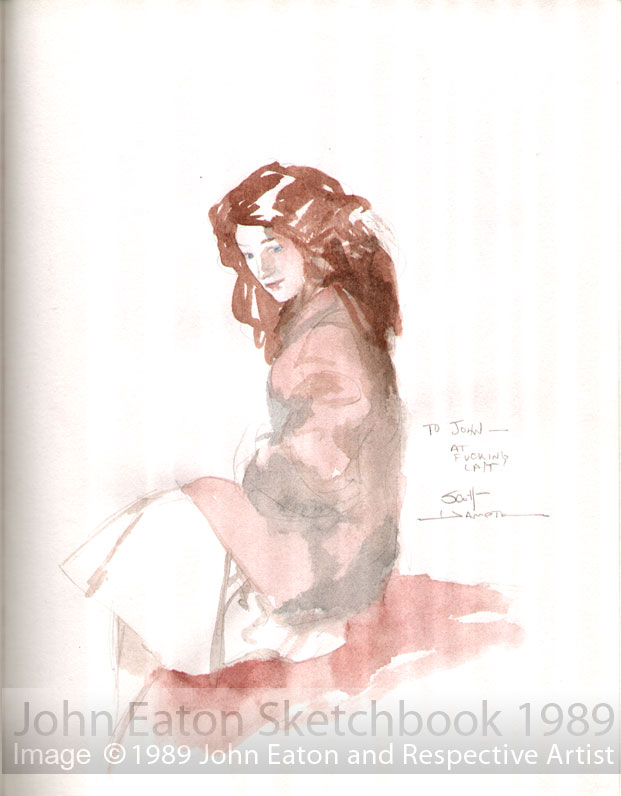 Sketchbook 2, Page 9: Guy Davis
I didn't know what to expect at the Chicago Comic Con, however there was one guest I was anxious to meet - Guy Davis, who was working on this Baker Street indie book that I greatly admired. He ended up being the first person I asked for a sketch and this is what he did for me - I think it's terrific!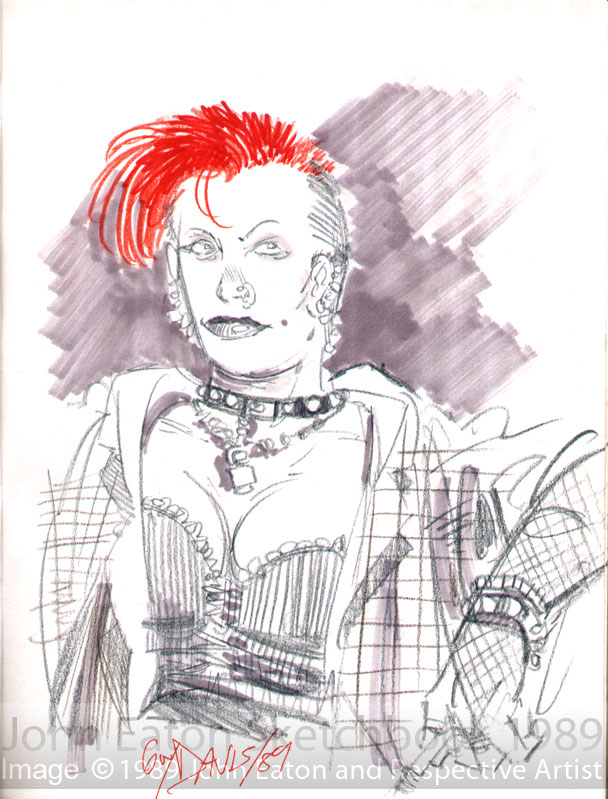 Sketchbook 2, Page 10: Phil Foglio
The second person I ran into at Chicago Con was Phil Foglio, who had just published Xenophile and was happy to do this rendering for me from his book.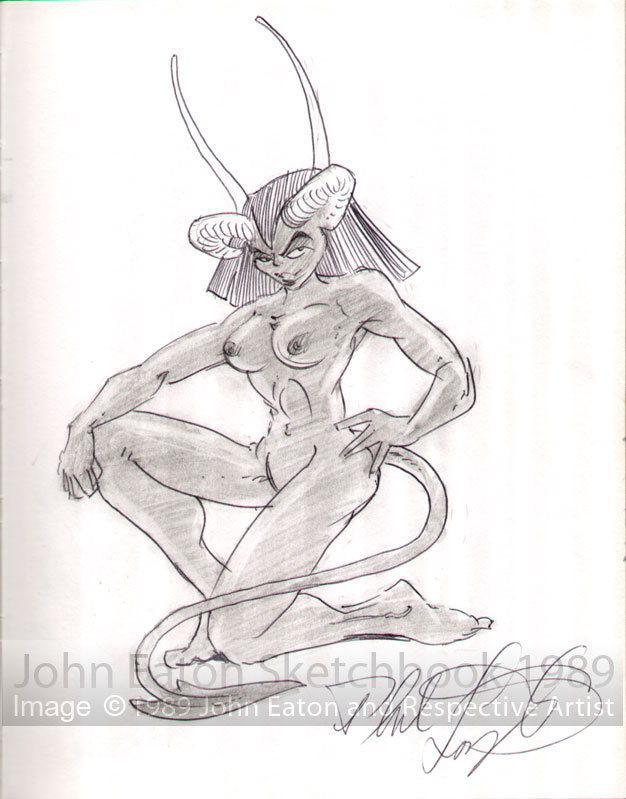 Sketchbook 2, Page 11: Bill Willingham
I had been following Bill from the old indy comic days and came across him at the con - he actually had a large group of fans around him so I was fortunate to get this sketch from him. He was thumbing his nose at DC (I don't remember why exactly) and this sketch was very appropriate.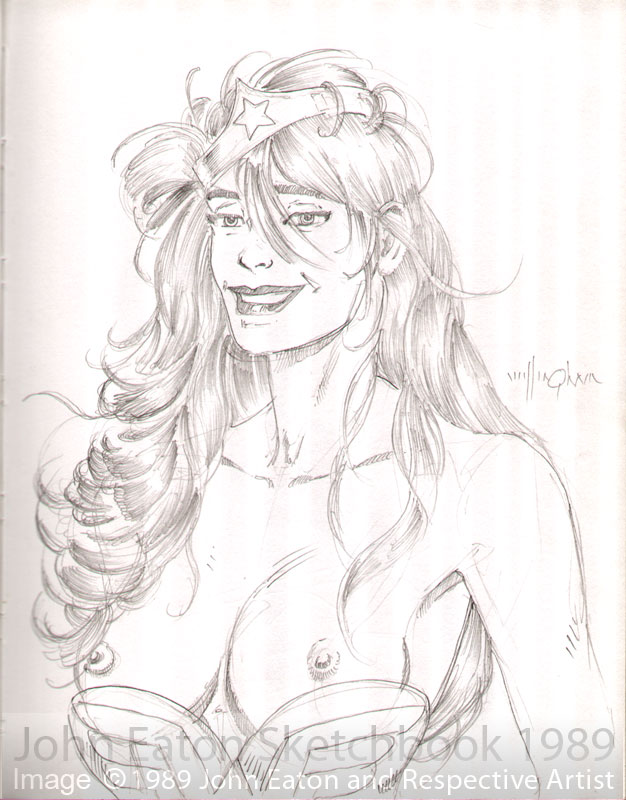 Sketchbook 2, Page 12: Mark Badger
I was quite lucky to come across Mark during my tour of the indy books area of Chicago Comic Con and he liked the direction of my sketchbooks (remember they were Bimbo books) and did this quick watercolor for me - it's one of my favorites in the book.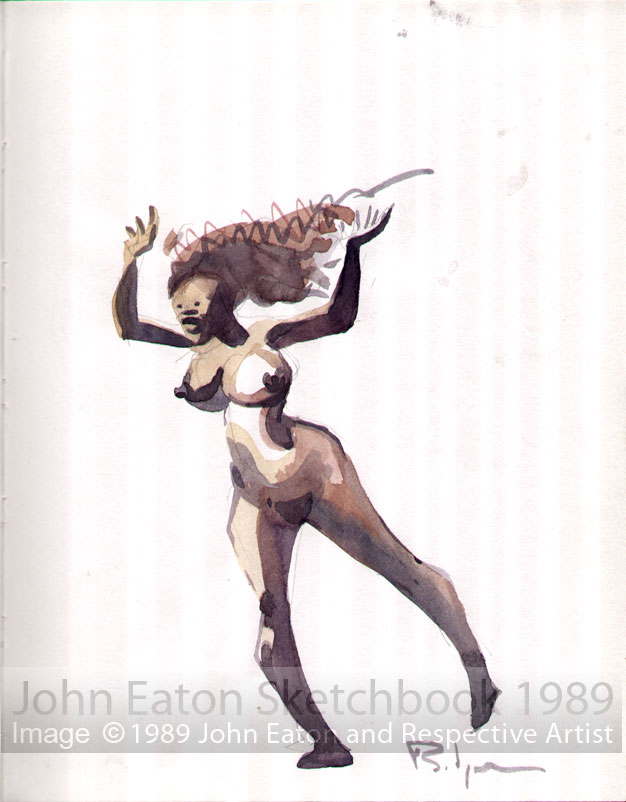 Sketchbook 2, Page 16: Chris Gianarro?
It's really embarassing, but I can't for the life of me remember Chris' last name and even more difficult the book he worked on. This sketch is a rendering of one of the characters - sort of an S&M styled book. If anyone recognizes him or the book, please drop me a line.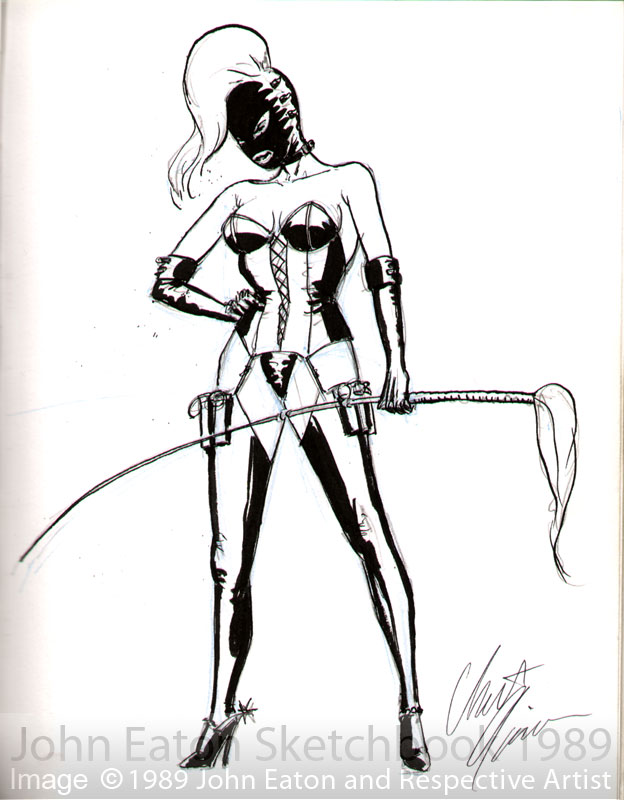 To wrap up part 1 of 1989 - the first half was highlighted by the Chicago Comic Con - I believe the remnants eventually got mutated into Wizard World (not sure). Back then the convention was this gigantic gathering of talent from the mid-west that you wouldn't typically see at other conventions. In those days guests weren't paid - in fact if you wanted to set up in Artist's Alley you had to pay a fee for the table - otherwise if you work in the business you could at least attend the convention for free. Because of this, Chicago always attracted many of the old underground artists that were still around - I met Robert Willams, Robert Crumb, Rick Griffin, Gilbert Shelton and many others at this show through the years - you don't really see any of them now - back then they would just fall out of a van, very underground comic book like and the party would begin. It seems to me that Wizard killed all that, but it may have already been happening even before then. Rick Griffin was supposed to do a sketch for me when he had his tragic accident so I was never able to get that one - something that makes be quite sad in retrospect, as does the loss of that yearly gathering of greats.