It's been a while since I've posted - seems my other blogs take up most of my time. That's not to say that I haven't been doing things with my collection or with art in general. Most recently I visited the
William Bremen Jewish Heritage
Museum in Atlanta, GA - the exhibit was called "The Superhero" and unfortunately for any of you who might want to see the exhibit in Atlanta, I ended up going on the last day. This was my second visit to the Breman Museum - previously I visited while the museum featured a Maurice Sendak exhibit on "Where the Wild Things Are."
"The Superhero 1938 to 1950" featured original artwork from the Golden Age of comic books. Wow, the exhibit was much better than I expected, featuring original works by: Simon and Schuster (creator's of Superman), a whole slew of Batman creators including Dick Sprang and Jerry Robinson (creator of the Joker), works by Joe Kubert, Lou Fine, Alex Schomburg, Mac Raboy, Will Eisner, Jack Kirby, Joe Simon - the list goes on and on. My favorite was the cover of Ghostrider #2 by my favorite fantasy artist, Frank Frazetta. Most of the works I've never seen in-person - these were illustrated covers and interior artwork, really spectacular stuff.
The exhibit was enhanced with a film room featuring clips from old superhero serials (Superman starring Kirk Alyn) - I believe there were others but I only stopped to watch the first two episodes. There's also a long-running interview of various creators including Bob Kane, Jerry Robinson, Dick Sprang, etc. on video before a recreation of a typical comic book studio from the era. Amongst the furnishings were relics of various creators like hats and other articles once owned and lent to the exhibit by the various estates. There were also many priceless comics to compare to the various original artworks with anecdotes and explanations regarding the various pieces. All-in-all a very well-rounded exhibit - I'm so glad I managed to catch it before its end.
There were also quite a few activities for kids, something you don't often see in museums. These included costumes for the kids to wear and a Batmobile ride and played the Batman theme from the 60's Adam West TV series as it moved back-and-forth. I took quite a few photos - actually they all ended up being images of original art. Note that I did not use any flash photography (it would have just added to the glare in any case as everything was under glass or plastic) - without further ado.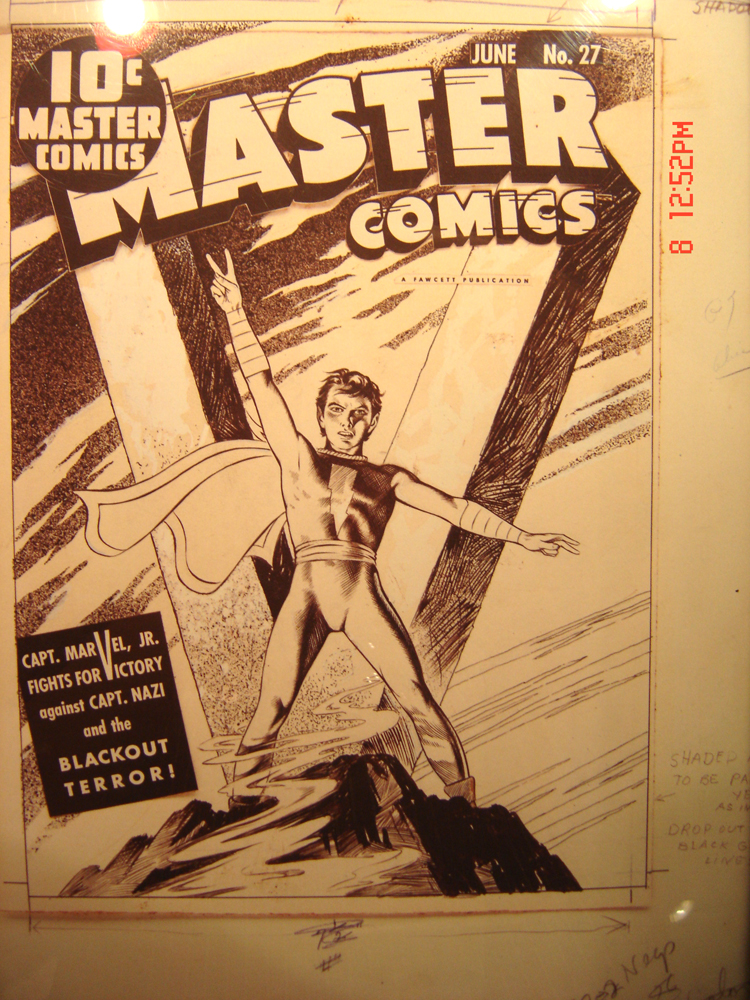 Mac Raboy!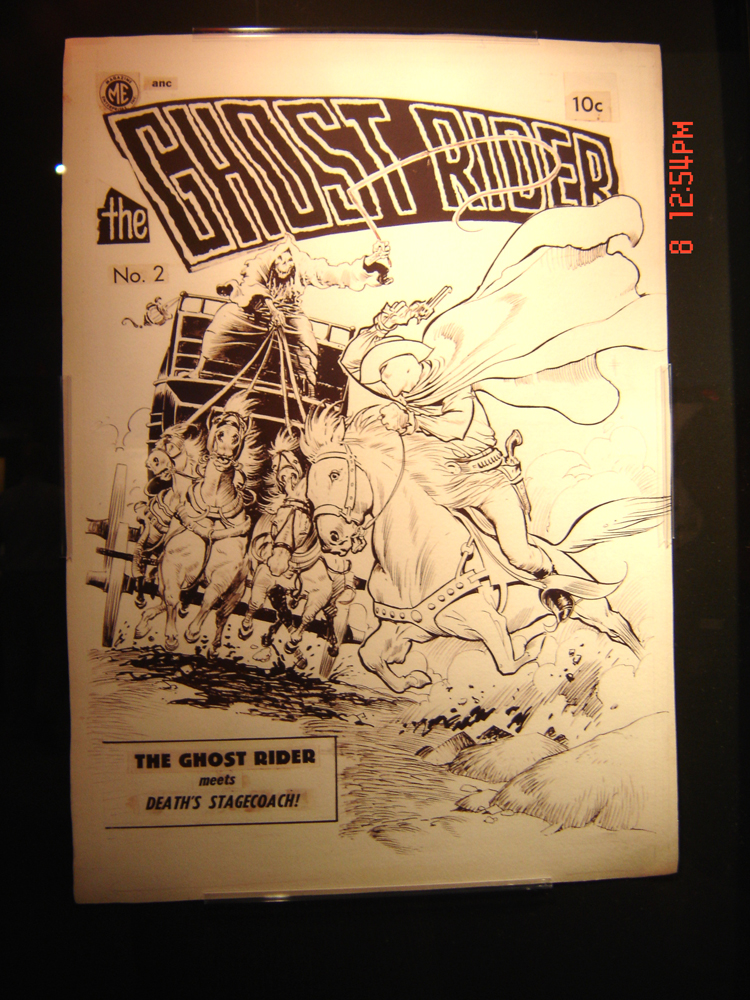 My Favorite - Frazetta!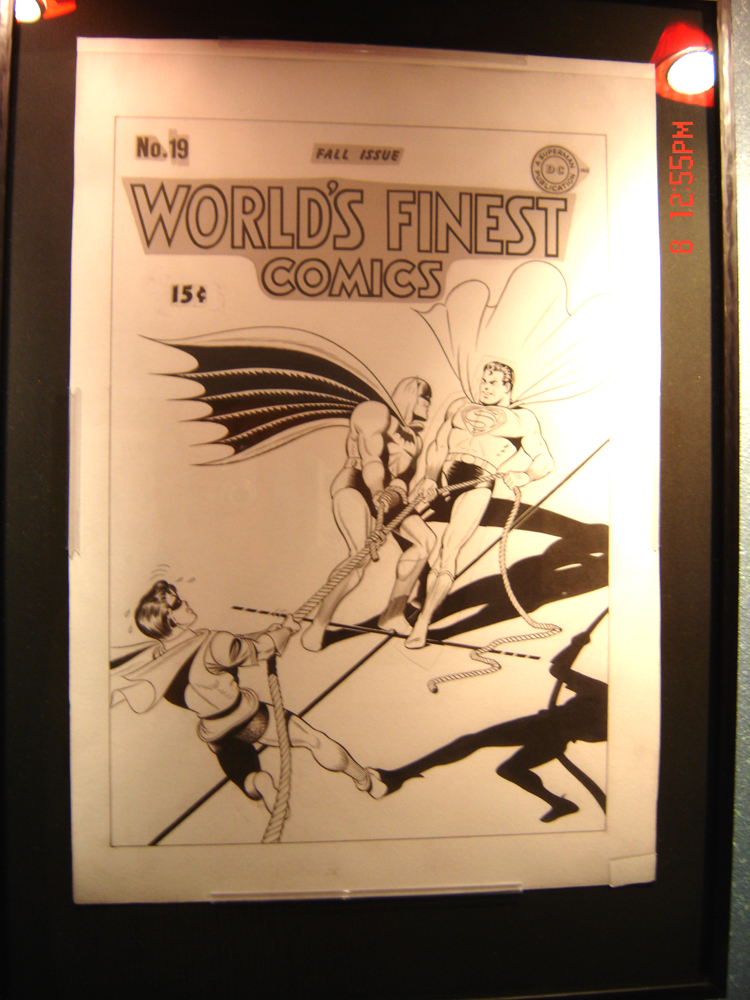 What a great cover!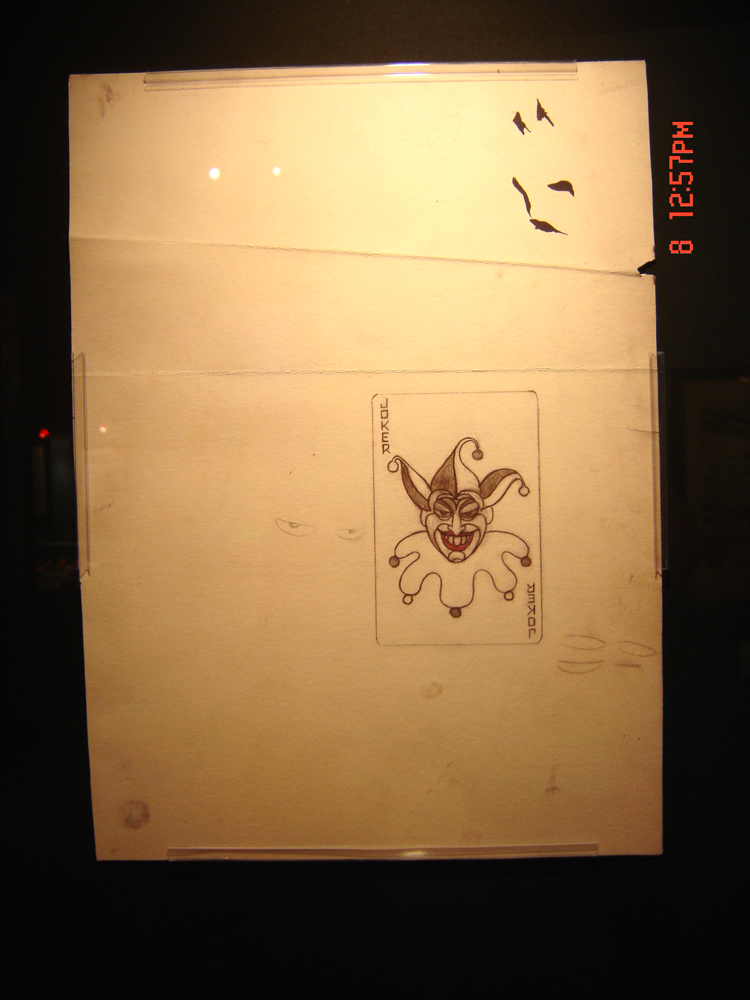 Original concept of the Joker by Jerry Robinson
Note that part of my review was also used on Yelp. I hope this exhibit travels around the country - it's quite worth seeing!
-- John